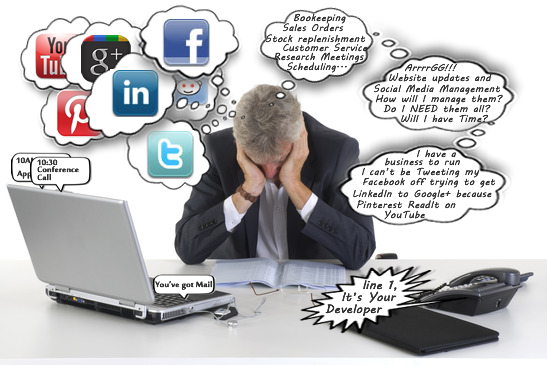 Website Design Increases Your Exposure
Categories / Website Design Tips
Tags: Brand, Business, Design Design, Designing, Development, keywords, Logo Design, Search Engine Optimization, SEO, Web Design, Website Design, Website Development
By HarryHenderson
Social Media Marketing Your Website
Some start-Up Businesses say they don't have the time to do social media marketing. Experts say, and I agree, make the time or pay someone to do it for you. As a start-Up Small Business you can't afford not to take advantage of the low cost no cost marketing available through Social Media for their Websites.
But there are so many! I'll spend all my time on Social Media and not focusing on my business. A Start-Up Business owner does not have to juggle 10 plus social media accounts all at the same time to market their website. Start with one or two you are familiar with.
The entire point of Start-Up Businesses having an active social media presence is to create and boost brand awareness.
We do this by engaging your clients, gather and respond quickly to client's feedback. Be interactive!
Staying in touch with customers and prospects keeps your products or services in the forefront their minds. Your start-up business will start to be perceived as an authority in your market. Creating a no cost sales force ready to promote, retweet and share your business expertise. Social media should be used not to close a sale or hound a client but to keep them informed and drive traffic to where you can close the deal.
Twitter is fantastic platform for quickly sharing information and directing people to your Facebook page, your website or your bricks and mortar location. You can tweet out short promotion reminders and target your audience using hash tags to make it easy to reach more potential clients and customers.
Tie your social media marketing into your regular emails and newsletters. Put follow buttons into your email footers. Pull your Facebook page feed and Twitter feed into your website. Work it into customer and client in-person interaction. It costs you little and will help your Start-Up Business Social Media marketing initiative.
For example the proprietor of Telling TAILS, (admittedly a little plug for my favorite pet food store & client tellingtailspetsupplies.com), consistently concludes every in-store visit with a prompt to follow the business on social media. Weather they purchase or just browse "Oh, did you know you can follow us on Facebook and Twitter?" She asks, followed by "I post helpful pet tips on Facebook and tweet promotions. I can usually tweet or post a reply to your questions while I'm in the store."
This is an awesome approach! She uses her upselling skills to promote social media marketing and web presence.
Which social network is best for your Start-Up Business?
Find out where most of your clients or customers spend their on-line social time. Search for social media demographics. I would recommend focusing on the big two, Facebook and Twitter. That's not to discount the value of LinkedIn, Google+, Pinterest or the many other available social media sites.
The Financial Post article More Canadians use Facebook daily than anywhere else in the world states 74% of Canadian web users have a Facebook account. That's 10% more than the world average and 4% more than the United States. It's a reasonable assumption Facebook is a must have in your Social Media Marketing arsenal.
What are you doing to take advantage of low cost no cost strategies? Want to find out how to get your website hosted for FREE? Find out how now.
Be sure to catch our next segment in this 5 part series 5 "Must Do" Low Cost No Cost Strategies to Increase Your Website Traffic – Social Media Maketing
Please share and follow us on Facebook & Twitter
#FreeWebsiteDevelopmentAndFreeWebsiteHosting
Have a Great Day!
Victor Stoneman
sudburywebsitedesign.ca